Here –  I found a really cool hat  – as you see it is an old pattern, but still working! You knit this with straight needles, and as you see – it is a simple, fast pattern!
Good Luck to you if you try it!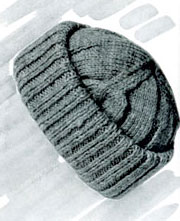 MATERIALS REQUIRED: —American Thread Company "Dawn" Knitting Worsted.1 2-oz. Skein, White or Colors .4 Double Pointed Knitting Needles No. 6.
Beanie Vintage Pattern:
• Cast on 96 sts—32 on each of 3 needles.
• K 2, P 2 for 35 rows. (About 5 inches.)
• K 6, P 2 for 22 rows. (About 3 inches.)
Then decrease every row at each end of each needle until 4 sts remain on each needle. (To decrease, K 1, Sl 1, K 1, pass the slipped st over the K st, K to within the last 3 sts on needle, K 2 together, K 1) break yarn leaving an end, thread into a large needle, draw through all sts and fasten firmly.
This Beanie can also be made of "Dawn" Germantown Wool.
Other great patterns from Star Book of Crocheted, Knitted, Tatted, Book No. 15.
This pattern is a Vintage pattern – under public domain. I found the pattern here:  http://freevintageknitting.com/free-hat-pattern/star15/beanie
(Visited 50 times, 1 visits today)