Knitted Christmas Ornaments
Many devoted knitters are decorating their Christmas tree with hand knitted Christmas ornaments. It is really fun to make all these cuties and it also is very quick to do. This is also a really great way of using all oddments of yarn you might have at home. If you use to knit you probably have tons of them just lying around.
Below I have posted some cute patterns for you. I found them on the internet and I think they are so nice! How many are you going to make this year?
| | | |
| --- | --- | --- |
| | | |
| Amigurumi Christmas Ornament Set Knitting Kit | | |
| | | |
| Christmas Ornaments Pattern | Christmas Ornaments | Sock Monkey Christmas Ornament Pattern |
| | | |
|  Christmas Love Hearts (free) |  Knit Covered Ornaments | Poinsetta |
| | | |
| Christmas Angel | Angel Ornament | |
Follow These Links And Find Other Christmas Knitting Patterns:
Vintage Christmas Knitting
Christmas Bells Ornament Pattern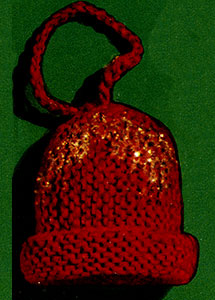 AMERICAN THREAD COMPANY "DAWN" PERMANENT "CRIMPSET" Nylon, Article N6
1 ball each White, Scarlet, or Medium Green (1 ball will make 6 Bells)
or
"STAR" BLEND YARN, Article 75
1 skein each White, Red or Dk. Green (1 skein will make 5 Bells)
1 pr. bone knitting needles No. 3
Directions are given for wool. "STAR" Blend yarn directions are given in brackets.
Cast on 14 (12) sts, K 1 row.
Next Row. * K 11 (9) sts, turn.
Next Row. K across 11 (9) sts, turn.
Next 2 Rows. K across entire row.
Repeat from * 14 (12) times, bind off.
TURN BACK: Pick up and K 31 (26) sts across bottom of bell.
K 1 row (wrong side of turn back). P 1 row. K 1 row. P 1 row. K 7 (5) rows, bind off. Draw top of bell together. Sew sides of the bell above turn back together on wrong side. Sew the turn back on opposite side and fold back. Attach a 5-inch length of yarn at top of bell and tie in loop. If desired to brush each bell with glue and sprinkle with artificial snow.
This free pattern originally published in:
Knitted Christmas Decorations For Kitchen
It has become popular to knit and crochet pastry decorations, so why not also knit some Christmas pastry ornament for either the Christmas tree or just as fun decoration in the kitchen.
Below I collected a few patterns; a Christmas pudding and a Christmas decorated cupcake.  Aren't they nice looking? It's almost like you want to take a bite…!
They are both very simple to make and perfect if you are a knitting beginner. Also, the Tea Cosy is very easy; anyone can make that one!
Sponsored ads:
| | | |
| --- | --- | --- |
| | | |
| Christmas Pudding |  Christmas Cupcake | Santa Tea Cozy  |
Some Free Tutorials:
Knitted Christmas Toys

Affiliate Disclosure:
This website contains affiliate links and the owner of the site might be compensated if you make a purchase after clicking on the images or links.
---
(Visited 2,459 times, 1 visits today)