Click & Download Your Free Knitting Patterns:
FREE COWL AND SCARVES KNITTING PATTERNS
There are so many beautiful knitting patterns out there, and here I show a few free knitting pattern for scarves and cowls. They all look different because of the yarn and pattern, but all of them easy to make and suitable for beginners.
Some of them might look complicated, but really they are not. They are simple patterns, but look great! That's good, isn't it!
 FREE SHAWL PATTERNS
To knit your own shawl is very exciting and rewarding.  You can make shawls that fits every occasion and many of the patterns are really easy and fast to knit.
The Glam shells pattern and Jasmine silk pattern are both patterns for intermediate crocheters, which means that you need some knitting experience and skills to make them. The other are knit shawl patterns for beginners or even novice, which means that anyone can knit them!
If you need some knitting instructions how to knit, pleas check out resource box below!
Tutorial on Knitting a Scarf and Cowl
If you need help to start your first project, these knitting instructions for beginners video to make your first cowl or scarf might be a help for you.
Click the image and find the videos on the next page.
A Fast Classic Vintage Knitting Pattern:
Checker Scarf Pattern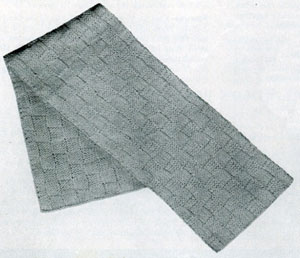 Materials that you will need for this scarf:
Suggested yarn:
2 Skeins KENTUCKY ALL PURPOSE YARN—1 Pair Number 8—10″ Needles.
Gauge: 5 sts = 1 inch; 5 rows = 1 inch.
Instructions: Cast on 40 sts.
Row number 1—K 5, P 5, (Re­peat across the row).
Then repeat row number 1 for rows 2, 3, 4 and 5.
Row 6—P 5, K 5, (Repeat across the row).
Then repeat row number 6 for rows 7, 8, 9, and 10.
The pattern is now completed.
To continue the shawl: Rows number 11 to 20, repeat the pattern. Rows number 21 to 30, repeat the pattern.
Continue the same pattern until the scarf measures 30 inches (or more if you want a longer scarf.)
That's it – super easy!
 My Favorite Craft Knitting Resorce Box:
Tutorial on How To Knit A Triangle Shawl
FREE HAT PATTERNS
The free knitting hat patterns below; are like all the other free patterns on this page for immediate downloading. Just click the links or the images and download on the next page.
A Classic Knitted Hat Pattern:

WARMING PATTERNS:
Two free patterns for the one who is do not want to freeze their hands or toes..!
They are both patterns made for beginners, so just go ahead and start knit something warming today!
 Leg Warmers
Here are more warming knitting patterns – legwarmers in different styles – and  of course; they all are for knitting beginners and there fore easy to knit!
Knitting has always been a popular craft and I think that today it is even more loved amongst both the young and the old throughout the world.
Knitting not only reduces stress and tension in your life, but also is making you feel really creative! And you do not need to be advanced at this craft, to experience it, even as a beginner you will feel how fun and relaxing it is to knit! The key is, except of course to learn the first basics which you easily can do with help of some knitting lessons and a knit pattern that is the right one for you.
You can find wonderful free knitting patterns and create beautiful items! Especially the free baby knitting patterns you can find on this site is suited for the newbie. It is very easy just download knitting patterns by clicking the image or the textlink and then on then next page get hold on the online knitting pattern of your choice.
And by the way…the web is filled with knitting tips, so start today if you haven't already! Download knitting patterns for any occasion and need here:Free Knitting Patterns Do not hesitate to try – share this creative craft with millions of others all over the world!